These delicious shakes are high in protein and contain no artificial colours or preservatives, making them an ideal way to help beginners, pros and gym bros achieve their fitness goals.
Enjoy them on their own or as part of the TR90 Wellbeing Programme!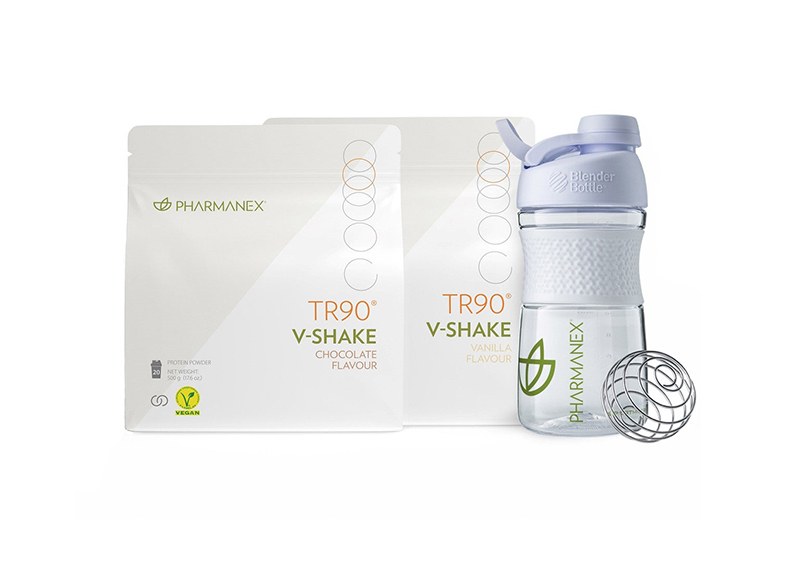 This kit contains the following:
-TR90 V-Shake (Netto Weight 500 g/17.6 oz.)
– Chocolate TR90 V-Shake (Netto Weight 500 g/17.6 oz.)
– Vanilla Pharmanex Shaker Bottle
What's inside?
Whether you prefer vanilla or chocolate, the things that really matter stay the same. Each serving of the V-Shakes contains 19 grams of protein, sourced from pea and brown rice, and is lactose-free, gluten-free, and soy-free – fantastic for a high-protein snack, a pre-workout or post-workout supplement, or as part of a healthy breakfast.
Is it suitable for me?
We all need protein, and supplementing a balanced diet with protein shakes can help make sure we get it. The TR90 V-Shakes are suitable for everyone – athletes, those looking to build some muscle mass, and even those over 65 who just want to keep up with the kids!
We're Shaking Things Up: TR90 V-Shakes | Pharmanex

Powered by Plant Proteins: TR90 V-Shakes | Pharmanex
TR90 V-Shakes Recipes: Peanut Butter Ice Cream | Pharmanex
TR90 V-Shakes Recipes: Vegan Protein Bowl | Pharmanex
TR90 V-Shakes Recipes: Vegan Energy Bars | Pharmanex
TR90 V-Shakes Recipes: Chocolate Blueberry Kiss | Pharmanex